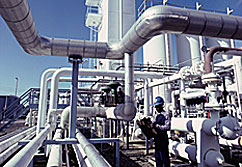 We are a Company with more than 19 years of experience. Began operations in 1991 with the marketing of electric wheelchairs. In 1993 adding the bouquet of Parts for the industry, the marketing of fuidos and emulsions Silicon of General Electric and the wool felt.
In 1995 icmc with the development of products derived from Silicones. In 1997 is achieving the development of Defoamer DFE-3109 degree industrial, which is a defoamer to 10 per cent of silicone with stability to the dilutions at a level of any of the market. And this served as a platform for the development of other antifoaming high performance, focused on different markets such as the DFE-7100 with minor viscosity.
In the 2005 launched the production of parts of felt, generandose the papeleria of quality resulting from the PPAP of demands, which leads us to consolidate offices and warehouse in Monterrey, Nuevo Leon.
In 2007, that delves into the Service of Maquila small parts cakes at the request special customers.